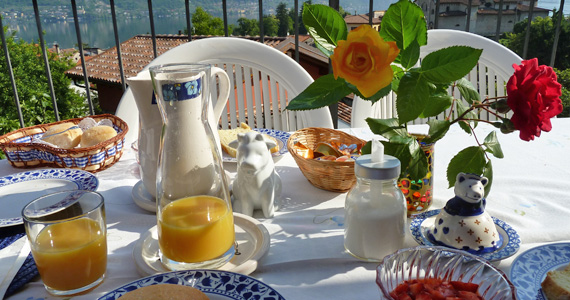 Traditional italian breakfast: coffe, milk, cappuccino, tea, fruit juice, bread, butter, jam, cookies or homemade cakes, seasonal fruit. The conventioned farms will provide fresh and traditional products that will be served for breakfast. If you prefer a self-catered breakfast you will receive a tray with all what you need for an equally authentic italian breakfast.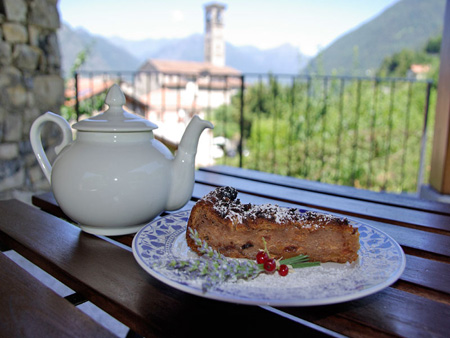 Grandma's recipe corner:
SAINT PETER'S CAKE
This is a traditional cake in the area. In Osteno it is traditionally baked for the celebartion of Saint Peter and Paul.
Leftover bread (around 5 rolls)
Milk 1 lt
Sugar, 300 gr
3 Eggs
A handful of amaretti
100 gr raisins
cocoa powder, 1 tablespoon
Break into pieces the bread and leave it in the milk for a few minutes. Add the sugar and the eggs. Crumble up the amaretti and add them to the mixture. Mix with your hands. Grease and dust with flour a baking tray (30 cm). Pour the mixture in the tray. Sprinkle with the sugar and put chunks of butter at the top. Leave in a pre-heated oven at 180° for 1 and a half hour.